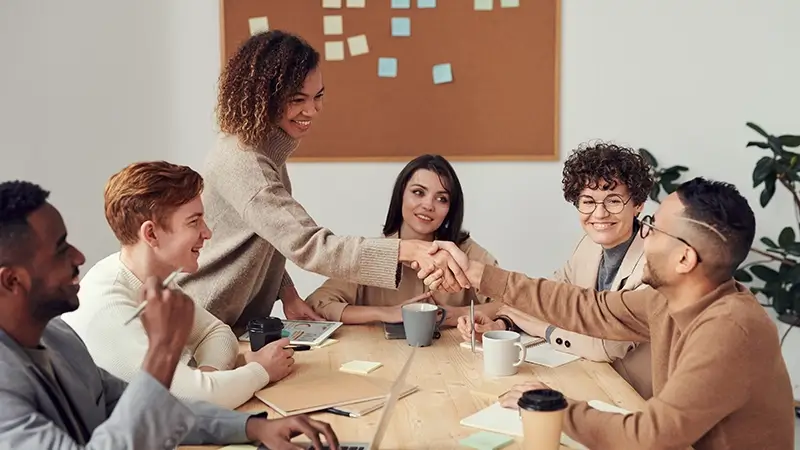 2023 Employment Situation Report in the U.S.
The U.S. Bureau of Labor Statistics report added a bit of clarity about an economy that keeps producing jobs in spite of economic and geopolitical headwinds. Total nonfarm payroll employment increased by 311,000 in February, compared with the average monthly gain of 343,000 over the prior 6 months. Unemployment edged up to 3.6% as more women entered the workforce however overall unemployment has shown little net movement since early 2022.
"While the Fed continues to apply the brakes to the economy in its efforts to lower inflation, the February BLS data continues to show resilience in overall job growth. I've just returned from our annual Pacesetter conference with over 100 of the top executive recruiters from our global network of over 200 offices. The performance of these Pacesetters in the past year confirms that demand for executive, technical, professional, and managerial talent remain strong", noted Nancy Halverson, vice president of MRINetwork.
Providing a longer-term view on how today's BLS numbers may impact the Federal Reserve Bank's efforts to cool inflation, KPMG chief economist Diane Swonk said, "The real issue is what kind of threshold would the Fed need to really stop the rate hiking cycle or stop from going up 50 basis points," she said. "You really need to get to below 100,000 to think 25 basis points is okay. They need to see signs of a major chill".
Wall Street Journal reporter Sarah Chaney Cambon noted, "A hot job market has emerged as one of the biggest economic surprises among many twists since the Covid-19 pandemic hit three years ago. With the Federal Reserve aggressively raising interest rates to tame inflation, many economists had expected job gains would cool or even turn into losses by now." She also quoted Veronica Clark, an economist at Citigroup, "The labor market's definitely been stronger at this point than we would have thought maybe six months ago."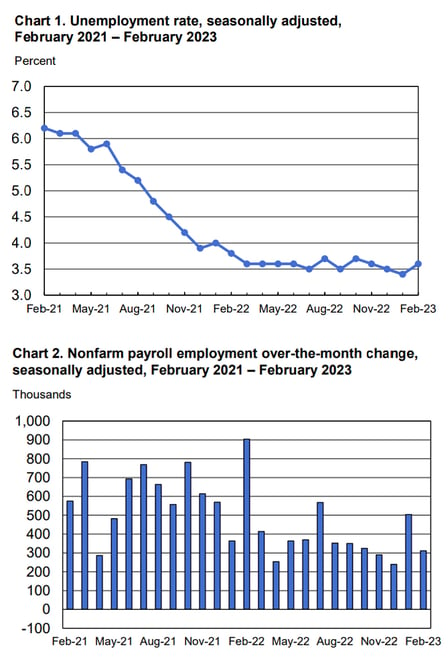 In February, the labor force participation rate was little changed at 62.5 percent, and the employment-population ratio held at 60.2 percent. These measures have shown little net change since early 2022 and remain below their pre-pandemic February 2020 levels (63.3 percent and 61.1 percent, respectively).
Leisure and hospitality added 105,000 jobs in February, similar to the average monthly gain of 91,000 over the prior 6 months. Food services and drinking places added 70,000 jobs in February, and employment continued to trend up in accommodation (+14,000).
Employment in retail trade rose by 50,000 in February, reflecting a gain in general merchandise retailers (+39,000). Retail trade employment is little changed on the net over the year.
Employment in professional and business services continued to trend up in February (+45,000), with a gain of 12,000 in management, scientific, and technical consulting services.
Healthcare added 44,000 jobs in February, compared with the average monthly increase of 54,000 over the prior 6 months. In February, job growth occurred in hospitals (+19,000) and in nursing and residential care facilities (+14,000).
Construction employment grew by 24,000 in February, in line with the average monthly growth of 20,000 over the prior 6 months.
Employment showed little change over the month in other major industries, including mining, quarrying, and oil and gas extraction; manufacturing; wholesale trade; financial activities; and other services.
In February, the information industry lost 25,000 jobs. Reflecting news of recent social media industry layoffs, employment in information has decreased by 54,000 since November 2022.
Transportation and warehousing lost 22,000 jobs in February, including 9,000 in truck transportation. Employment in transportation and warehousing is down by 42,000 since October 2022.
© by mrinetwork.com