Introduction to real estate investments
Every year, more global investors enter the U.S. real estate market. It's a popular destination among international investors because of its stability, high returns, and favor toward foreign investors.
Investing in a new market can be risky and complicated. But don't worry, because the team at H&CO has thirty years of experience working with foreign investors. Our global professionals are experts at developing and implementing international tax and financial solutions that address the unique challenges of global investors.
We've dedicated this section of our website to the most significant issues that global real estate investors face as they dive into the U.S. market. We will continue to update this section to help you with your real estate international tax compliance.
Can a foreign investor buy property in the U.S.?
Yes, foreigners can invest in U.S. real estate. There are no citizenship requirements for the ownership of U.S. real estate, and investors do not need a visa in order to purchase U.S. property. Foreign investors can buy real estate property in the U.S. under their names or through various entities such as a trust, a corporation, or an LLC. However, foreign investors must pay attention to the international tax laws that impact U.S. investments. By familiarizing yourself with these real estate tax laws, you will be able to minimize your tax exposure.
How big is foreign investment in the U.S. real estate market?
The foreign investment makes up a significant portion of the U.S. real estate market, and it continues to grow year after year. According to Statista, foreign investors invest about 60 billion in the U.S. real estate market every year. A significant number of buyers come from Canada, Mexico, and China. Recently, we have seen more investors emerge from various countries in Latin America and Europe. You are not alone. A large community of foreign investors is taking advantage of the U.S. market. We recommend talking to other investors to learn from their experiences and avoid mistakes. Here at H&CO, we will work with you every step of the way to ensure proper compliance with U.S. real estate international tax laws.
Where is the hottest real estate market in the U.S. for foreign investors?
The United States boasts a sizable real estate market, and global investors can find lucrative opportunities across the country. Currently, H&CO works with international investors in almost every state.
Usually, the process begins when individuals move to the U.S. After getting their real estate licenses, they immediately start promoting properties to friends back home. States with high immigration tend to attract the most foreign investors since people prefer to work with those they know and trust.
According to the National Association of Realtors, these seven U.S. states are popular among global investors: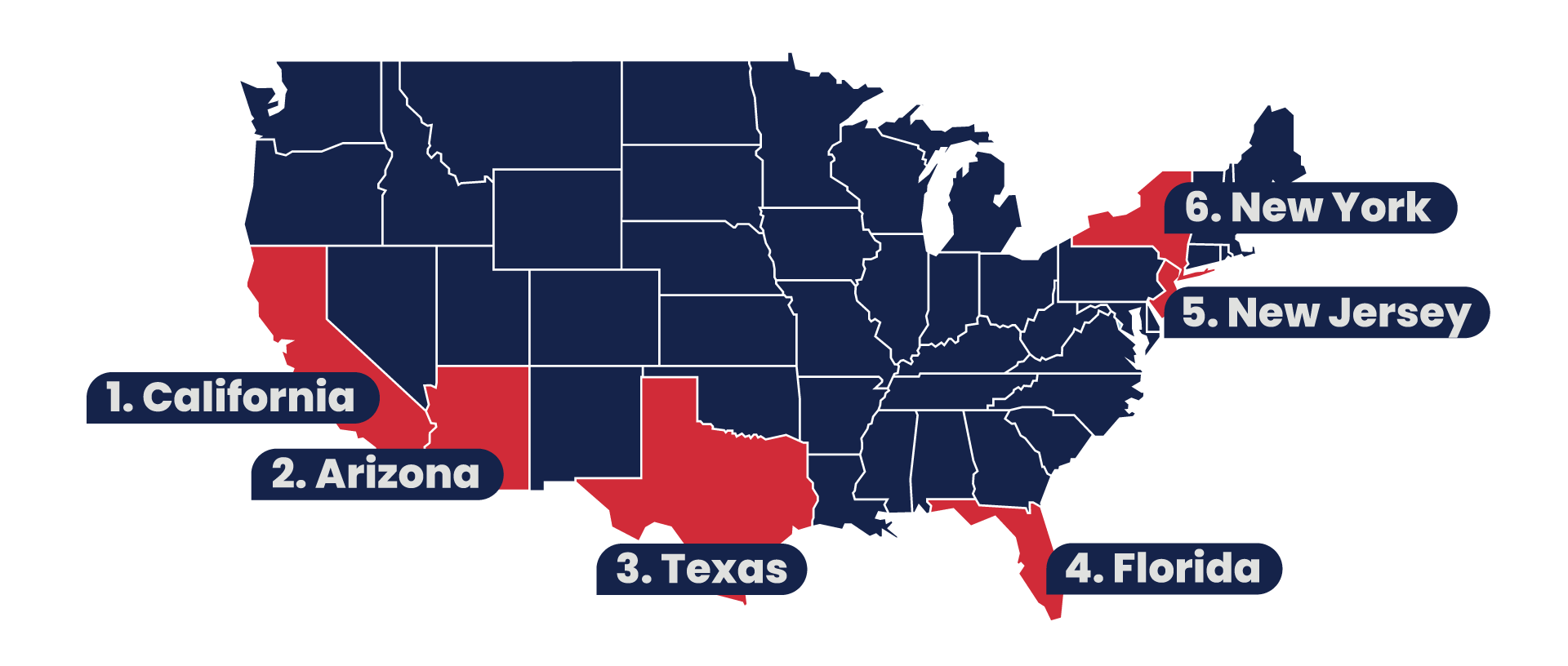 Why do foreign investors love the U.S. real estate market?
Since 1992, H&CO has worked with global investors investing in the U.S. real estate market. Our clients range from global, high-net-worth families to international real estate funds looking to diversify their real estate portfolios.
The U.S. attracts many foreign direct investments because of its large economy and market stability. Our foreign investors tell us that they love the U.S. real estate market because of its favorable market conditions.
Here are ten reasons why foreign investors choose U.S. real estate:
1. Risk diversification
2. Steady, predictable market
3. Long-term security
4. Predictable, positive cash flow
5. Ability to use debt to buy properties
6. Low-interest rates and long-term repayment periods
7. Favorable real estate tax laws
8. Protection against inflation
9. Long-term appreciation
10. Great returns on investment
Types of real estate Investments
Real estate investing comes in different shapes and sizes. In order to make the best decision for your situation, it's essential to understand your options along with the pros and cons of each opportunity.
Traditional real estate investors love physical real estate such as land, residential, commercial, and industrial properties. Unlike the stock market, the conventional real estate market is tangible, and investors can see and touch their investment.
However, recently we have seen foreign investors dive into types of real estate investments that do not involve physical property. These can include REITs, ETFs, real estate mutual funds, real estate builders such as Lennar, and real estate lenders.
Different types of real estate for foreign investors include:
1) Physical real estate investments
a) Land (raw land, farms, and ranches)
b) Residential (houses, duplex, multi-family, condos, and vacation homes)
c) Commercial (office buildings, skyscrapers, and hotels)
d) Industrial (warehouses, storage units, and extensive industrial facilities)
e) Retail (shopping malls and strip malls)
2) Indirect real estate investments
a) REITs (real estate investment trusts)
b) ETFs (exchange-traded funds)
c) Real estate buildings (Lennar, Century Communities, LGI Homes)
d) Lending to real estate investors
e) Online or crowdfunding platforms
Which type of real estate investment is best for foreign investors?
The type of real estate investment best suited for you depends on your personal preferences, capital and financial position, risk tolerance, and personal goals. If you are considering real estate investments, understand all your options before investing your money.
Working with an experienced, trustworthy real estate team is crucial to your success. A group of trusted advisors will minimize potential mistakes and risks. Your team should include real estate agents, attorneys, and accountants.
Since you are investing in a new country, do not rely on advertising alone. Only do business with people you can trust. Ask your friends for referrals and carry out due diligence with anyone you plan to work with.
Remember: if it is too good to be true, it probably is not. Be wary of those who promise suspiciously high returns on investment, such as a 20% return when the market only generates 6%.
When choosing your type of real estate investment, consider:
a) Your current financial situation
b) Your cash availability
c) Your risk tolerance
d) Your timeframe (long-term vs. short-term investments)
e) Your real estate recommendations
f) Your family goals
g) The right location (location, location, location)
Building your real estate team
Investing in U.S. real estate can add diversification to your portfolio, but at the same time, investing in a new market comes with risks. To minimize your risk, learn how to build your real estate team and surround yourself with trusted advisors.
If you want to win at basketball, you need to fill each position with the best players. The same goes for building your real estate investment team. In order to protect your investment and turn a profit, you must hire the right advisors for the right job.
Even if you are knowledgeable in real estate, the U.S. is a new market with new rules and a variety of real estate options. By partnering with a dependable team of real estate professionals, you can preserve your investment and improve your chances of success in the U.S.
Which professionals should be in my international real estate team?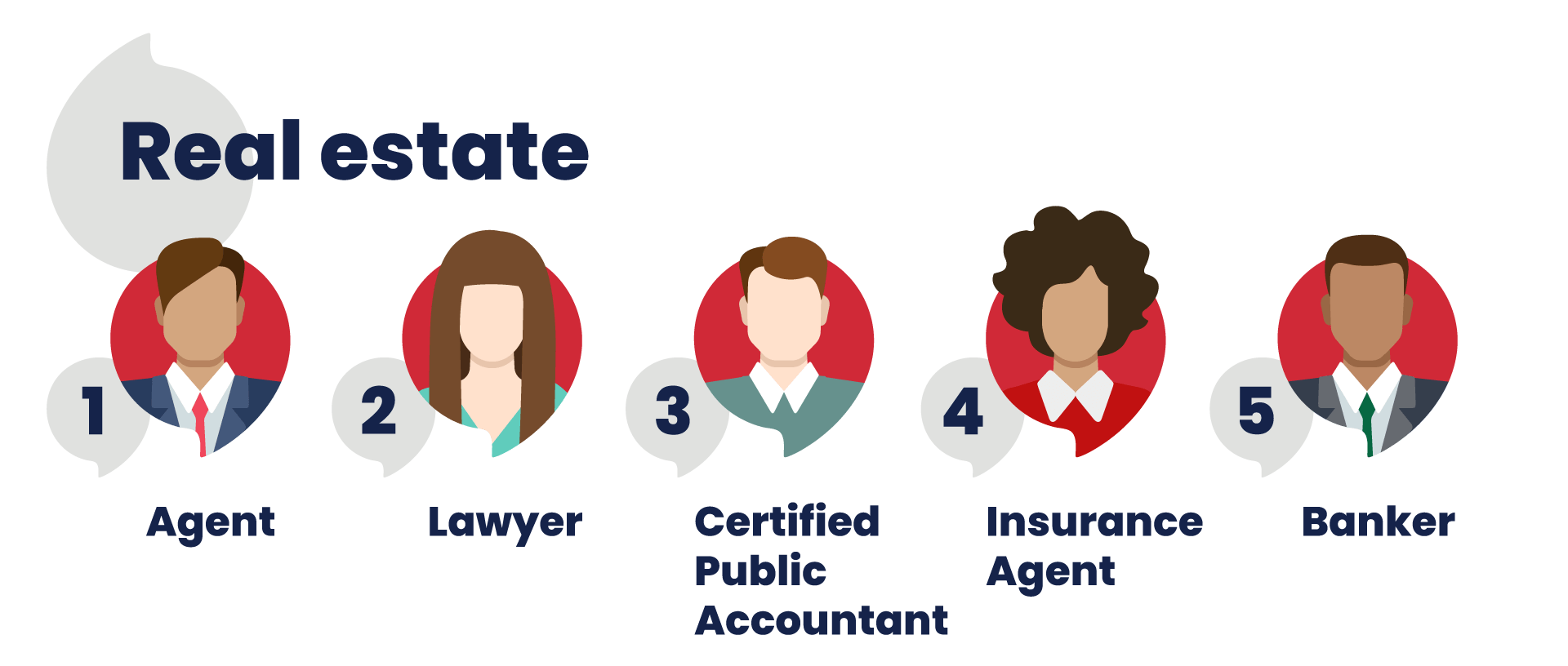 Choosing a realtor in the United States
Real estate agent: Once you decide what type of property to focus on, it is time to find a real estate agent. With so many realtors in the U.S., it is easy to find potential candidates. However, as with any industry, the quality of a realtor can vary immensely from person to person. Take your time to carefully select an experienced, knowledgeable, and trustworthy partner.
We recommend asking your professional network for referrals. Interview a few agents to find out their area of expertise, the type of property they specialize in, the region they serve, and how long they have been in business.
In the U.S., realtors are regulated by the state. Before hiring a realtor, verify that they are licensed and that they have not been subject to disciplinary actions. This information is publicly available online.
As a foreign investor, limit your search to realtors who have experience handling international investors. Buying property as a foreign investor can add complications. An agent who is familiar with the federal and local laws that apply to foreign buyers will be critical to ensuring a smooth, painless buying process. On the other hand, a real estate agent who has never worked with foreign investors may not be prepared for the challenges that often come with these transactions.
How much should the realtor be paid?
If you are using a realtor to buy a property, we have good news for you. Usually, the seller pays the real estate commission. A typical commission is 6% of the sales price, which the listing agent splits with the buyer's realtor.
What kind of lawyer will I need to buy real estate?
Real estate lawyer: You don't always need a lawyer to buy property in the U.S. However, we recommend seeking representation with a real estate lawyer before purchasing real estate property.
Real estate attorneys are familiar with all aspects of investing in real estate. They are licensed to practice law, specialize in real estate transactions, and can help you avoid costly mistakes.
If you want to invest in U.S. real estate, be sure to add an international real estate lawyer to your team. They offer a variety of services that will save you money in the long run.
Why should I hire an international real estate CPA?
CPA – Certified Public Accountant: A CPA, or Certified Public Accountant, is licensed by the state to ensure competency. Licensed CPAs are up-to-date on financial issues such as the latest state and federal regulations. They are also held to the highest ethical standards.
You should never work with an accountant who is not a CPA. Working with a CPA will protect you should trouble, or complications arise, so they are one of the best people to add to your real estate team.

An international real estate CPA is a trusted financial advisor who helps global real estate investors plan and reach their financial goals. Real estate CPAs assist with areas such as accounting, international taxes, real estate due diligence, tax planning upon the acquisition and sale of a property, and financial and governmental audits.

10 reasons why you should hire an international real estate CPA:
1. CPAs give you peace of mind – licensed CPAs will protect your investments
2. CPAs help you with real estate investment due diligence
3. CPAs help you choose the proper entity structure to buy your property
4. CPAs help negotiate real estate loans with lenders
5. CPAs help keep your investment books in compliance with the law
6. CPAs give you financial advice on your investment results
7. CPAs help minimize your income taxes
8. CPAs help minimize your estate taxes
9. CPAs help minimize your capital gain taxes
10. CPAs will represent you before the IRS if you get audited by the government

How can an insurance agent help foreign investors?
Insurance agent: An insurance agent is invaluable to investors buying real estate. They can provide critical information that helps you make informed decisions about the properties you are considering.
In order to minimize your risk, you will need to cover your properties with the proper insurance. Each property in your real estate portfolio requires its own policy.
Arrange insurance for your properties as soon as possible. Do not wait until an event happens or it is about to happen because the insurance company is unlikely to issue last-minute insurance. In other words, if a hurricane is on the way, don't expect the insurance company to insure your property before it hits.
A real estate insurance agent can help you: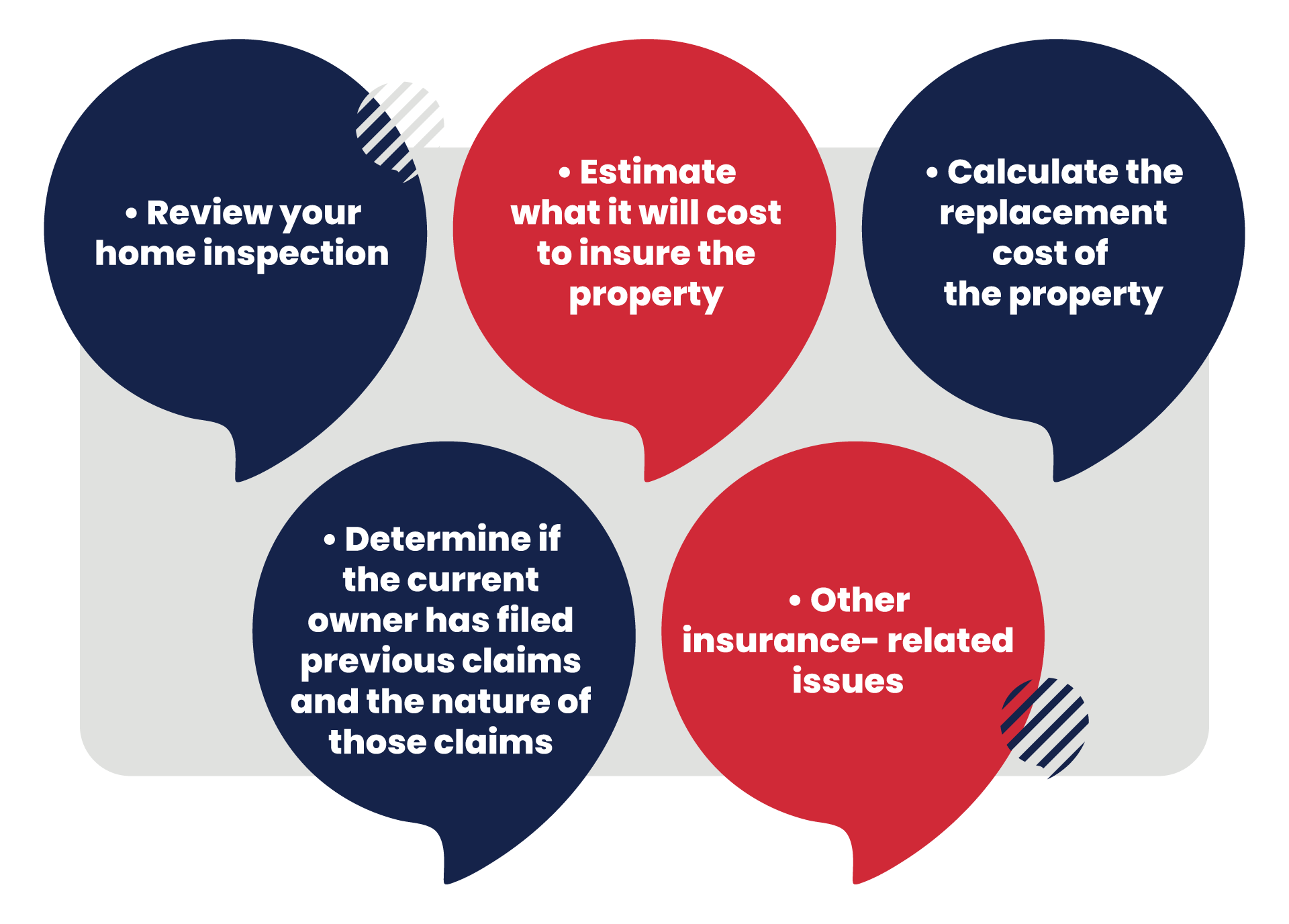 Why do you need a real estate banker or lender on your team?
Real estate banker or lender: Every real estate investor has a different portfolio, which means you must find a lender willing to work with you based on your portfolio. As a global real estate investor, you must also find a banker or lender willing to work with foreign investors.

It is essential to establish professional relationships with various lenders or banks. When you develop connections with lenders, they can give you a pre-qualification letter to help you negotiate deals.
Real estate investors backed by lenders can secure better deals, even if they don't have all the funds available to close. Building these connections will help you obtain great discounts, secure better rates, and buy more significant and more profitable properties.
Real estate lending is the financing provided to purchase real estate properties secured by the loan. Since you are buying real estate as an investor, you will want to apply for a commercial loan. Commercial real estate lending is provided to finance income-producing property or build a property.
Obtaining a commercial real estate loan is quite different from borrowing for residential real estate. We recommend establishing relationships with lenders willing to offer commercial loans to foreign investors.
H&CO international real estate advisors have experience helping foreign investors obtain financing for their real estate acquisitions.
Immigration visas
As we explained before, there are no citizenship or visa requirements in order to own U.S. properties. Foreign investors can buy real estate properties in the U.S. under their names or through various entities. You can purchase real estate properties in the U.S. without being present in the U.S., and your real estate team can manage those properties for you. However, if you want to spend time in the United States or move to the U.S. to manage your real estate investments, here are some U.S. immigrant visa types that you can consider.
What is a U.S. visa?
A foreign person who seeks to enter the United States generally must first obtain a U.S. visa. A U.S. visa is a permit given by the U.S. that allows foreigners to visit the U.S. It is a document that is stamped onto a person's passport by a U.S. embassy. Certain international travelers may be eligible to travel to the United States without a visa if they meet the requirements for visa-free travel.


What types of U.S. visas are available for foreign real estate investors?
If you wish to establish your business in and move to the United States, it is imperative to understand the types of visas that are available for foreign real estate investors. If you decide to obtain an immigration visa, you should consult with an immigration lawyer and your CPA about the pros and cons of each type of visa.

The primary visa options for foreign real estate investors are E-1, E-2, and EB-5. Each visa has distinctive characteristics with which you can define the field of your business and the type of visa you need.


E-1 - Visa for traders and investors
The E-1 is a visa for foreign real estate investors from countries that have trade treaties with the U.S. The E-1 Visa will allow you to remain in the United States for two years. If you meet the conditions, you can apply for an extension that will make your visa valid for longer.

The following countries have trade treaties with the United States that allow qualifying nationals to apply for Treaty Trader status: Argentina, Australia, Austria, Belgium, Bolivia, Brunei, Canada, China, Colombia, Costa Rica, Denmark, Estonia, Ethiopia, Finland, France, Germany, Greece, Honduras, Iran, Ireland, Israel, Italy, Japan, Korea, Latvia, Liberia, Luxembourg, Mexico, Netherlands, Norway, Oman, Pakistan, Philippines, Spain, Suriname, Sweden, Switzerland, Thailand, Togo, Turkey, U.K., and Yugoslavia.


E-2 - Visa for traders and investors
The E-2 Visa is a favorite option for foreign real estate investors who want to live and work in the U.S legally.

The E-2 Visa permits a foreign real estate investor to either buy or start a business in the U.S. through an investment of a substantial amount of capital. For the E-2 Visa to be approved, the investment needs to be significant. You must choose the type of business you plan to establish in the U.S. in order to apply for this visa.

In our experience, we have seen the following businesses qualify for the E-2 Visa:
• Real estate construction
• Real estate flipping
• Real estate management
• Real estate brokerages
What is the difference between E-1 and E-2 Visas?
The E-1 Visa is for foreign real estate investors from countries that have trade treaties with the U.S. The E-2 Visa is for foreign real estate investors who either buy or start a business in the U.S. through an investment of a substantial amount of capital.


What are the advantages of E-1 and E-2 Visas?
The E-1 and E-2 Visas allow you to travel in and out of the U.S. without immigration implications. These visas allow you to bring your dependents and your spouse. As long as you continue to qualify for one of these visas, you can stay in the U.S. with unlimited two-year extensions.

Do E-1 and E-2 Visa holders have to pay taxes in the U.S.?
The answer to this question depends on your tax status. It is important to notice that your tax status is relevant only for tax purposes. Your tax status does not affect your visa status. If you are considered a resident for U.S. tax purposes, you will most likely have to pay taxes on your worldwide income. If you are considered non-resident for tax purposes; you will only have to pay taxes on your U.S. Income.

What makes you a U.S. tax resident?
You will be considered a U.S. resident for tax purposes if you are a U.S. citizen or a green card holder or if you meet the substantial presence test for the calendar year,
You meet the substantial presence test, if you are physically present in the U.S. for 31 days during the current year, and 183 days during the 3-year period including all days of the current year, 1/3 of the days you were present in the first year before the current year, and 1/6 of the days you were present in the second year before the current year.

You should consult with your international tax CPA because there are elections that override the green card test and the substantial presence test that may be beneficial for tax purposes, as follows:
• Elections under certain tax treaties
• Closer connection election to a foreign country
• First-year election to be treated as a resident for tax purposes
• Nonresident spouse treated as U.S. resident for tax purposes
Immigrant Investor Visa Program (EB-5)
The EB-5 Visa, or Immigrant Investor Program, aims to stimulate the country's economy by using foreign investors.

In 1992, Congress created the Immigrant Investor Program, also known as the Regional Center Program. This program sets aside EB-5 visas for participants who invest in commercial enterprises associated with regional centers approved by USCIS based on proposals for promoting economic growth. Under this program, minimum investments between $900,000 and $1,800,000 are required to create a new company that employs U.S. citizens.
Does the EB-5 Visa lead to a Green Card or permanent residence?
Under the EB-5 program, foreign real estate investors, along with their spouses and unmarried children under 21, are eligible to apply for permanent residence with a Green Card if they make the necessary investment in a commercial enterprise. Their investment must create or preserve ten permanent full-time jobs for qualified U.S. workers.
If the foreign real estate investor's petition is approved, the investor and their dependents will be granted conditional permanent residence valid for two years. Be careful to choose a reputable regional center so you meet the requirement for obtaining an unconditional Green Card. Please, please do not go along with this type of visa and investment. You should be represented by an immigration attorney.
Can the children of the applicant's spouse obtain the E Visa?
Yes. Your spouse and children under the age of 21 qualify for an E Visa derivative, based on the qualifications of the primary applicant. They do not need to have the nationality of the principal applicant.
When a spouse's or child's surname differs from the primary applicant's surname, as their names appear on the passport, then the applicant must prove the relationship's legitimacy. Most often, this is established with a marriage certificate, birth certificate, and other legal documentation. Common-law spouses and fiancés do not qualify for the derivative of this visa.
Do you need a lawyer to apply for your visa or Green Card in the U.S.?
You are not required to hire a lawyer when applying for an immigrant visa or Green Card. However, we strongly recommend that you hire a qualified immigration attorney to help with your Green Card or visa application.
Moving to the U.S. is a significant, life-changing decision that could have substantial ramifications. You are moving your family to a new country, and in most cases, you are selling your properties back home. Your children will be attending a new school, and you are investing in a new market. There is no understating the significance of this life-changing event.

If you don't use an attorney, you risk getting your visa revoked and having to return to your country of origin. To avoid that possibility and secure your U.S. immigration visa status, we strongly recommend that you work with a qualified immigration attorney. H&CO does not practice law, but we can provide you with a list of immigration attorneys that we have been working with to help our clients.